A refreshing spring soup providing the body with many vitamins and the taste buds with new pinnacles. Its ingredients are great for a number of diets and also for vegetarians.
BLACK LENTIL (BELUGA) SOUP SERVED WITH ROASTED BABY SPINACH LEAVES AND BASIL COULI
Ingredients:
150 g black lentils
1 l vegetable broth
salt
black pepper
30 g butter
100 g baby spinach leaves
0,2 l cream
30 g basil
0,05 l extra virgin oil
50 g butter for the spinach
Preparation:
Cook the lentils in a pot with the broth. No need to let the lentils sit in water beforehand. No need to thicken the broth. Once the lentils are cooked, add cream and cook some more. Add butter for a milder taste. Roast spinach on a pan and add to the soup. Drip over with a mixture of finely chopped basil and olive oil.
The soup is best served with
Johann E. Hubert sparkling wine.
Recipe by chef Tomáš Zapletal.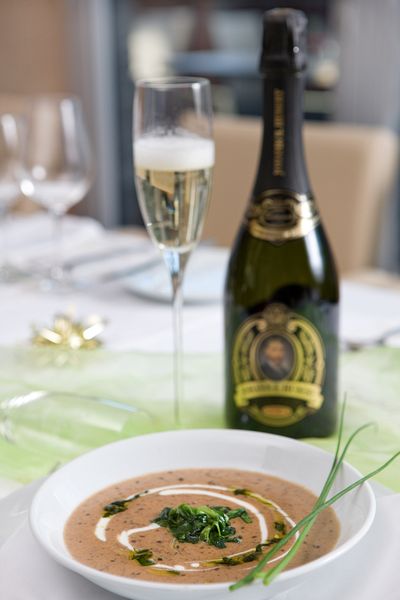 https://www.hubertsekt.sk/wp-content/uploads/2016/08/sosovicova.jpg
1309
3744
hubertautor
hubertautor
2016-08-31 10:29:19
2016-09-05 10:37:50
Lentil soup with baby spinach and basil couli