A gastronomic beauty in terms of both taste and what meets the eye. Recipe for experienced cooks. Skilled beginners will manage if they follow instructions closely. This dish is great for formal family dinners.
STEWED VEAL WITH POTATO BISCUIT, PEPPER SAUCE AND SPINACH LEAVES
(4 servings)
Stewed veal calf
Ingredients:
800g veal calf
60ml oil
Salt and black pepper
60g carrot
60g celery
60g parsley root
60g onions
40g tomato puree
Allspice 1 peppercorn
Black pepper 4 whole peppercorns
Bay leaf 2 pieces
Fresh herbs 2 twigs
Preparation:
Cut the meat along its fibers, tie and roast on each side. Roast diced root vegetables and pepper on oil, add onions and roast some more. Add tomato puree, roast some more and add water or broth. Boil and place roasted meat in the prepared sauce. Stew the meat until tender, remove from broth, untie and cut into servings.
Potato cookie
Ingredients:
500 g potatoes
150 g semolina
3 yolks
Preparation:
Boil potatoes with the peel, let cool and peel. Grind, add yolks and semolina. Prepare a thick dough, form cookies, roast and add salt.
Pepper sauce
Ingredients:
3 fresh red peppers
2 shallots
Oil 30ml
33% fat cream 300ml
Salt
Preparation:
Roast chopped shallots on oil until glassy, add seeded diced peppers and cream. Cook the peppers until they fall apart, mix in blender and cook until thick. Add salt and sieve the mixture.
Spinach
Ingredients:
Fresh spinach 500g
Butter 30g
Shallots 50g
Salt and black pepper
1 lemon
Preparation:
Pick spinach leaves and wash thoroughly. Roast shallots on butter and add fresh spinach for a short time, drip lemon juice, add salt and black pepper.
This main course is ideally served with
Johann E. Hubert sparkling wine.
Recipe by Chef of the Year 2008 and 2009
Jaroslav Žídek.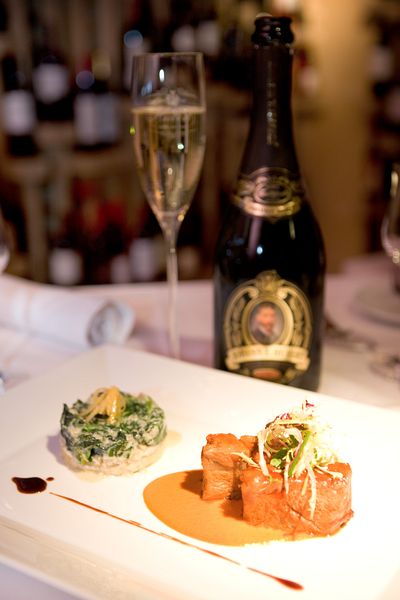 https://www.hubertsekt.sk/wp-content/uploads/2016/08/dusenyTelaciMocing.jpg
1200
3432
hubertautor
hubertautor
2016-08-31 13:06:31
2016-09-05 10:35:34
Stewed veal served with potato biscuit