It is said that desserts help digestion. Why then turn down a chocolate dessert with a refreshing fruity surprise after a heavy meal? Everyone will leave the party satisfied. Guaranteed.
CHOCOLATE MOUSSE WITH CITRUS FRUIT AND MANGO TEXTURE AND RASPBERRY CAPPUCCINO
Chocolate mousse
Ingredients:
60 g dark bitter chocolate
cream 33% 250 g
1 jelly strip
Preparation:
Boil chocolate and cream, put aside, add jelly dripped in cold water and stir well. Pour into a whipping cream bottle and let cool. After cooling, insert cartridges (3 pieces) in the whipping cream bottle until mousse comes out.
Citrus fruit and mango texture
Ingredients:
Citrus fruit juice 200ml
Agar 3g
Mango 60g
Preparation:
Boil agar juice slowly and pour into bowls containing mango pieces.
Raspberry cappuccino
Ingredients:
Frozen raspberries 120g
Sugar 50g
Egg whites 50g
Preparation:
Use half the sugar and 50g water to make syrup, cool down, and pour over melted raspberries. Whip the egg whites and when thick add the other half sugar and whip until thick. Pour the raspberry compote into a glass, put whipped whites on top and glace into a crème brulée.
Enjoy Hubert de Luxe
 with this dessert.
Recipe by Chef of the Year 2008 and 2009 Jaroslav Žídek.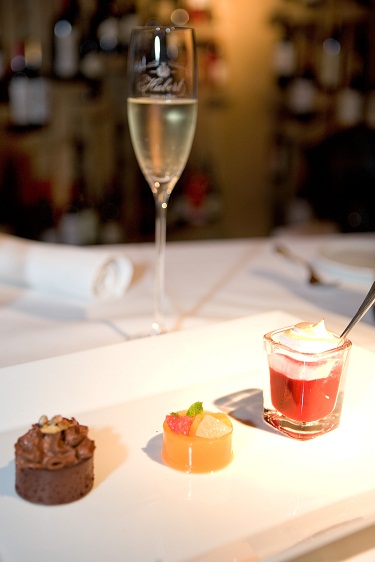 https://www.hubertsekt.sk/wp-content/uploads/2016/08/cokoPena.jpg
1309
3744
hubertautor
hubertautor
2016-08-31 12:41:31
2016-09-05 10:35:55
Chocolate mousse with raspberry cappuccino