Ideal dessert for summer pick-nicks or afternoon garden parties. Enjoy with Hubert de Luxe sparkling wine also on vacation or at fancy business events.
BAKED POPPY SEED CUBE WITH SULTANAS AND CARAMEL REDUCTION
Ingredients:
0,2 kg poppy seed
0,3 l milk
50 g sultanas
0,05 l Rum
15 table spoons sugar
10 table spoons flour
10 eggs
0,15 l cream
Preparation:
Add mixed poppy seeds in milk and filter through a sieve. Do the same with the sultanas. Add Rum. Prepare a cake mixture from flour, egg yolks and sugar. Add whipped egg whites to the mixture. Add poppy seeds and sultanas to the dough. Stir slowly and carefully. Let bake the mixture in a baking tin at 180C for 10-15 minutes (depending on the tin size). Make caramel out of the sugar. Add cream to make caramel sauce and serve.
This dessert is best served with
Hubert de Luxe.
Recipe by chef
Tomáš Zapletal.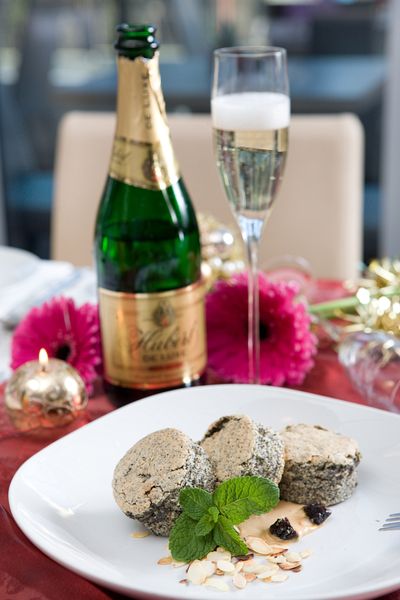 https://www.hubertsekt.sk/wp-content/uploads/2016/08/makovaKocka.jpg
1083
3100
hubertautor
hubertautor
2016-08-31 14:01:25
2016-09-05 10:24:35
Baked poppy seed cubes